DEVELOPMENT AROUND DEVANAHALLI and How It can be fruitful for Investment.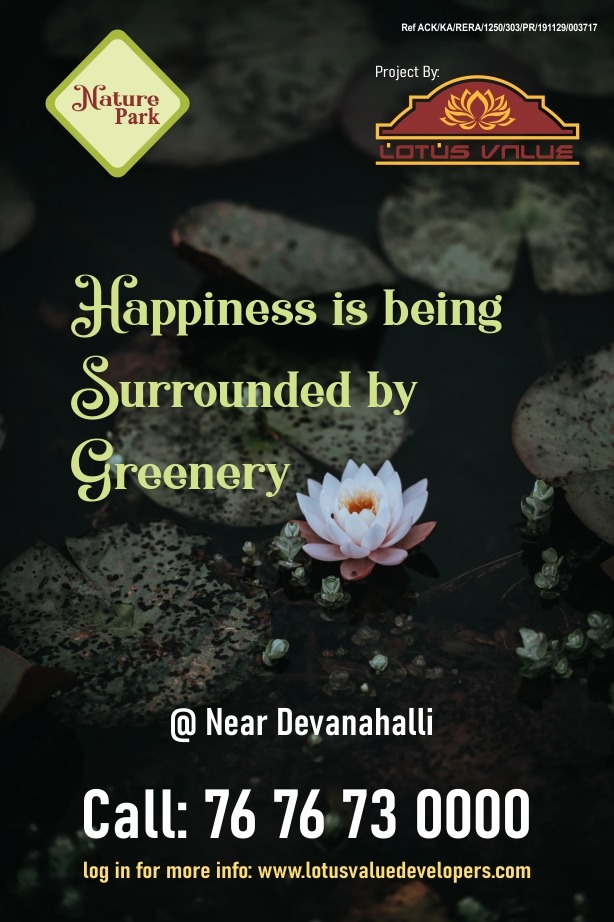 Bengaluru will be the fastest growing city in the world for the next 15 years as its GDP is projected to grow at 8.5 per cent until 2035, according to the Bengaluru Innovation Report 2019.
In terms of technology and new businesses,so called Start Ups, Bengaluru is way more ahead in the race.
Most Millennial-friendly City :-
According to the report, Bengaluru is India's most millennial-friendly city with the highest employability rate in the country. It ranks 18th in this category among cities in Asia. It is also the first choice for women in employability. It has a major demographic dividend with 37% of the city's population between 15-35 years of age, the report states.
Bengaluru's consumer economy is the most digitally savvy in India with a digital spend of Rs 8,600 per person per month in the city. The report stated that 38.1% of all UPI transactions in Tier 1 cities originated in Bengaluru as of October 2019.
Consumers in Bengaluru also had the highest preference for online shopping, followed by Mumbai and Delhi. In Bengaluru, 69% of the people surveyed showed a willingness to buy products online compared to 65% in Mumbai and 61% in Delhi.

About DEVANAHALLI :-

---

Devanahalli, a suburb located in North Bangalore is one of the emerging real estate destinations of choice. Popularly known as the birthplace of Tipu Sultan, it is now better known as the location of the newly built Kempegowda International Airport. Devanahalli is also developing as an industrial and technology hotspot. Let's look at why homebuyers are attracted to Devanahalli.

Location & Connectivity

Devanahalli enjoys excellent connectivity to the main city centres via the NH-7 or the Bellary Road which has been widened to a 6 lane highway, thus ensuring better and efficient flow of traffic. The Bangalore Metropolitan Transport Corporation [BMTC] buses operate a regular service, catering to the ever-increasing demand of public transport. It has major transport nodes located at easily accessible distances. The international standard airport located here is the second busiest airport in the country, with flights to various cities all across the country and the world. Devanahalli is also well-connected to the nearby suburb of Yelahanka, and Bangalore City by railway.

Upcoming Transport Infrastructure

Devanahalli's multi-modal transport connectivity is set to receive a boost with future infrastructure developments. The suburb has been included in the construction of Phase 2 of the Namma Metro network which will connect the Airport to central Bangalore and thus Devanahalli as well. The proposed Peripheral Ring Road (PRR), which will complement the existing routes of NICE and ORR, will connect the outer suburbs of Bangalore and major roads like OMR and Bellary Road. This will enhance connectivity between Devanahalli and the rest of Bangalore.

Social Infrastructure

Devanahalli benefits from a well-established social infrastructure such as schools, hospitals and recreational spaces. Some notable schools in this area are NPS School, Delhi Public School, Akash International School and Canadian International School. The healthcare options available to residents include Leena Multispecialty Hospital, Akash Hospital and Cyte Care Cancer Hospital. This suburb also has a D-Mart outlet as well as numerous convenience stores to meet residents' daily needs. Devanahalli is also a popular tourist destination due to the many temples and the Devanahalli fort.

Industrial and IT Hub

The relative affordability of land in Devanahalli, as compared to many other suburbs in Bangalore, has made it a focus area for real estate and infrastructure development. This includes some of the biggest projects already operational here such as IT Investment Region [ITIR] and the Aerospace SEZ, making them employment attractions. Some big companies which have been set up in the Aerospace SEZ are Thyssenkrupp Aviation, BEML, Dynamatic and Centum Electronics.

Popular IT companies such as TCS, Infosys and Wipro are expected to set up base in the Devanahalli ITIR. Companies such as Shell already have a significant presence in this area. Also, an upcoming Science Park as well as a Financial City, is expected to compete with India's financial capital Mumbai and the Gujarat International Finance Tec-City in Gandhinagar. This, proximity to industrial clusters and IT Hubs, is another key attraction of Devanahalli.
So, if you look closely, investing in Devanahalli is far more better. Invest in Sites/Plots, as a growing city, Devanahalli will be developed soon. And because of this expansion, automatically the LAND VALUE what you have invested will be up by few folds before you know.
Explore More: Lotus Value Developers/Nature-Park-in-Devanahalli
Investment, Devanahalli, Bangalore, Bangalore international Airport, Land, Sites, Plots
Published Date :
04-Mar-2020 03:46 PM
---